9 Outerwear Essentials for Fall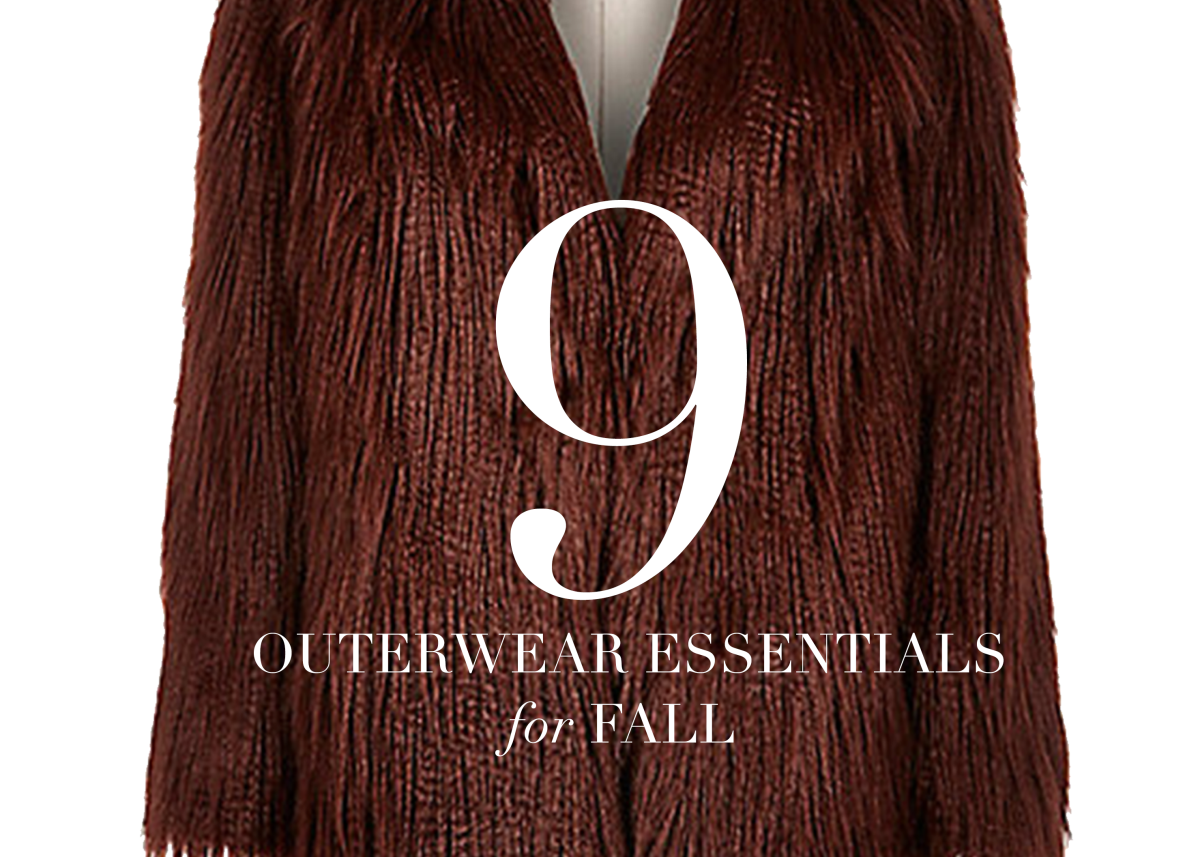 Fall is a great time to experiment with your style—especially when the weather is just beginning to transition—one day you might find yourself layering light pieces, while the next day might call for you to be totally bundled up. No matter the weather, there are plenty of options when it comes to outerwear, which will allow you to switch it up with the greatest of ease. Here are nine outerwear styles that I think pretty much anyone can (and should) pull off this season.
THE BOMBER
I love military-inspired fashion, I think it's one of the quickest ways to add personality to a look—military clothes are typically pretty structured, made of great materials, and are extremely functional while looking great.The bomber (or flight) jacket is no exception. What I love about this jacket is that it's super warm, but lightweight. Its boxy construction gives you structure in the shoulder-area, while remaining quite laid-back overall—wear this on the weekend with your favorite skinny jeans, and sneakers, or, take a page out of Kim K's book, and pair this masculine jacket with an ultra-femme body con skirt and heels.
Buy: MA-1 Flight Jacket, Alpha Industries, $135
THE SUEDE MOTO
Let's be real, a moto jacket is always in style, no matter the season. So for Fall, instead of traditional black leather, go for tan suede—it's a nice nod to the 70s trend that we've been seeing lately, without going too overboard. However, if you're feeling trendy, go all out, and grab a moto with fringe on the back and sleeves! This jacket is super versatile, and will work with just about anything that you own.
Buy: Suede Biker Jacket, Topshop, $360
THE FAUX FUR COAT
Faux fur is an excellent, and easy way to bring some texture, and drama into your wardrobe. Choosing one in a rich, earthy shade (or deep jewel tone), will keep you looking super luxe! I used to steer clear of faux fur, because it didn't always look the best, but luckily, with newer fibre technology, faux furs look amazing, and finding a good alternative to real fur shouldn't be too hard these days. Pair this coat with a sleek faux leather dress, to turn heads at your next holiday party, or dress up a pair of boyfriend jeans and a tshirt.
Buy: Brown Shaggy Faux Fur Coat, River Island, $170
THE LONGLINE VEST
A longline vest is a great way to spice up your Fall wardrobe; the long silhouette gives you a very chic option on days where light layers will do the trick. This would work great with a turtleneck or blouse, and leather pants or a skirt underneath—or, you might try wearing it as a dress, in which case, break out the suede over-the-knee boots for a sexy, yet sleek daytime look.
Buy: Premium Sleeveless Longline Jacket, Topshop, $140
THE LEATHER TRENCH
In the 60s and 70s, it seemed like a leather trench was in just about everyone's closet, and I say, it's time for a resurgence. It just oozes mystery, and style. I would most likely go black on black on black with this jacket, but if you're not into the goth look, maybe try a cream-colored sweater dress, and ankle boots, instead. If you're convinced that you're a 007 Agent (as I do), try pairing this with ankle-length trousers, a lightweight knit turtleneck, and a smart pair of black oxfords.
Buy: Black Trench Raincoat, Genuine People, $74
THE CAMEL COAT
If you had to pick one coat to buy this season, that you don't already own, it should certainly be the camel coat. This coat is so easy to wear, and so versatile that you will want to wear it all of the time! Sometimes, classic pieces become trendy, and you will have definitely seen this coat on just about every celebrity and style blogger, but still, it's for a great reason—it never gets old, and it goes with everything that you own. This type of coat is in almost every store currently, so finding one to fit your budget and style shouldn't be too hard!
Buy: Pocket Shift Coat, Mango, $229
THE CAPE
If you are looking for a unique alternative to Fall outwear, why not check out a cape? Again, this is another classic shape that has started trending once again. They are just as warm, and cozy as a regular coat, but the A-line shape gives you plenty of room underneath to layer as heavily as your heart desires. For a night on the town, pair this with a wide-leg jumpsuit, and a long pair of black leather gloves. For daytime, run errands in a ripped pair of skinny jeans, and a pair of stacked-heel cognac-colored boots.
Buy: Metal Button Cape, Zara, $189
THE WRAP COAT
The wrap coat is great for those lazy days where you just want to throw something on, and go. Since it's not very structured, it can feel more like a robe than a coat, but with dramatic lapels, and the ability to cinch your waist with a belt, it is the epitome of effortless chic. Sometimes, you just need something easy, and that isn't super restricting! This would look great with a printed midi dress and pumps for work, or OTK boots, leather leggings, and a striped sweater for weekend coffee dates.
Buy: Wool Coat, Zara, $149
THE COCOON COAT
The cocoon coat is great for people who want structure—but not too much. It's got a slight masculine charm, and ovular shape that make this the perfect coat for laid-back Fall days. I love anything that appears to be oversized, because playing with volume and proportions can be really fun—plus, who wants to wear fitted things all of the time, anyway? Create one long line under this coat with a monochrome outfit with pointed toe shoes to help elongate your leg. For a killer off-duty look, try a chunky knit scarf, ankle boots, and a pair of overalls.
Buy: Courtney Oversized Coat, John Lewis, $253
Which piece would you try for Fall?
xx
Tasha